Summary
Thanks to a small float and an ongoing stock promotion Eco Science Solutions has been up over 700% over the last twelve months.
Today, however, the size of its float has exploded overnight as a registration statement for 14 million newly issued shares has been declared effective.
The person indirectly holding those shares has previously been CEO of Eventure, a publicly traded company with an uncanny number of similarities to Eco Science Solutions.
Eventure's stock price dropped from 3.50 into the triple zeroes in 2014 after a series of toxic financing deals. Eco Science Solutions has now obtained identical toxic financing.
I believe history will repeat itself and Eco Science Solution's stock will shortly follow Eventure's down the drain.
Introduction
And the joke rather sad,

That it's all just a little bit of history repeating.

("History Repeating", Propellerheads feat: Miss Shirley Bassey)
On the 15th of December 2016 author Anthony Thorpe published an article on Seeking Alpha about a company called Eco Science Solutions (OTCQB:ESSI). He convincingly argued shares are worthless. Anyone who has taken a few minutes to do some basic due diligence on Eco Science will agree with him. The company solely owns two extremely basic apps nobody uses or has even heard of. Nevertheless, Eco Science currently has a 110 million dollar market cap.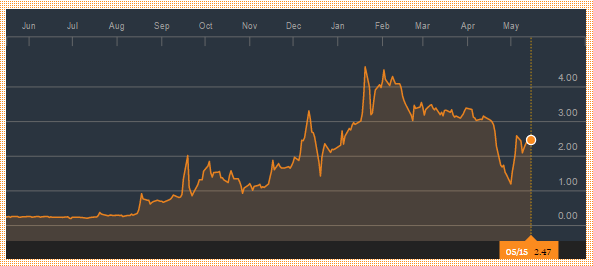 Source: bloomberg.com, stock chart ESSI
In his article Thorpe mainly focused on Eco Science itself, and its unlikely management. To really understand what's going on here, and to predict when the ESSI share price will finally dump for the last time before sinking away into oblivion, I suggest we look a bit deeper. In this article I'll argue the company, as well as its management, are irrelevant and merely part of a vehicle that was set up to transfer shares to a third party. And in this case, that particular third party has pulled off an almost identical scheme just a few years ago, with that stock now trading at zero.
Finally, I'll explain why I strongly believe the ESSI share price will follow that example, and why it will start its final, definitive descent to zero literally any day now.
2012-2015: Eventure Interactive
This article starts in 2012, years before Eco Science Solutions ever even came to light. That year an entrepreneur named Gannon Giguiere, and a fellow investor, sold a "software platform" to OTC-listed Live Event Media (OTCPK:EVTI), later renamed to Eventure Interactive. Giguiere, who received millions of shares in this transaction, also became Eventure's new CEO.
This mysterious software platform, with hardly any other description other than the fact it supposedly had "millions lines of code", was supposed to be Eventure's backbone in becoming "a social application development company".
However, despite a lot of talk about "vision" and "inspiration" and plenty of (stock) promotions, nothing ever materialized. Millions of investing dollars were wasted.
While Eventure Interactive did at one point manage to put out two barely functioning free apps, which never gained any traction whatsoever, it never generated any revenue. Most of all it was a toxic printing press of stock. Before Giguiere became CEO in 2012, Eventure had 10,4 million shares outstanding. Late 2015 this number had increased to 1,4 billion shares.
After peaking at $ 3.60 late 2013, the Eventure share price plummeted straight to zero in the following months and years.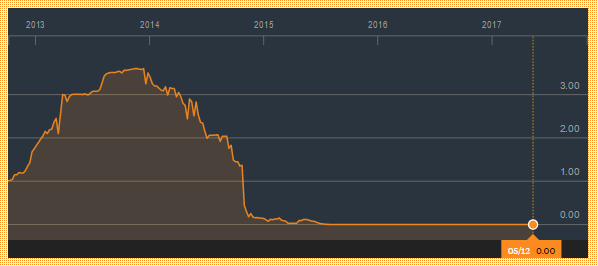 Source: bloomberg.com, stock chart EVTI
This fall in share price was without a doubt caused by the many toxic financing deals Eventure agreed on. In little over a year Eventure signed approximately ten different equity purchase or convertible note agreements (for example 1 23), in which outside financiers were allowed to buy or convert to EVTI stock at significant discounts to the share price, only to then proceed to dump the newly acquired shares in the open market.
By far the most remarkable of those deals was with a mysterious entity named N600PG, which agreed to buy 10 million worth of stock at a hefty discount to the market price. However, remarkably, Gannon Giguiere was not only the President of Eventure Interactive at that time, but according to corporationwiki.com also a past Managing Member of this toxic financier. As far as I could find, the fact Giguiere might have had conflicting interests was never disclosed to shareholders.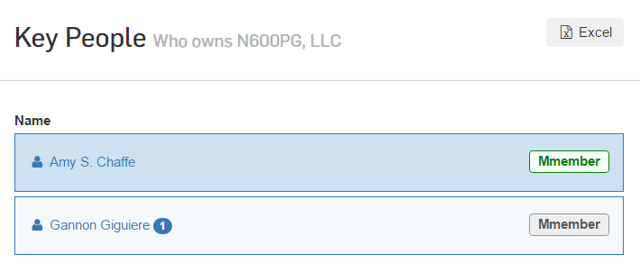 Source: corporationwiki.com
In 2016 Eventure Interactive went "dark" and is now no longer filing with the SEC. While its shares are as of today still theoretically listed, it hardly ever trades anymore. Even though there are millions of shares on offer at $0.0001, there are simply no buyers left.

Source: Interactive Brokers
At this point, the stock is merely waiting for its registration to be revoked by the SEC. All that's left is a large group of investors owning billions of worthless shares who at one point bought into the promises of Giguiere and his team, but are now left holding the bag having effectively lost all of their money.
2015: Separation Degrees – One
In January of 2015, when the share price of Eventure Interactive had already been spiraling down for some time, Giguiere apparently decided it was time to move on. He then filed with the SEC, through an S-1 registration statement, for the IPO of a completely new company called Separation Degrees – One. Giguiere appointed himself CEO, and took a large part of his team from Eventure Interactive with him, including Michael Rountree (Eventure's CFO) and Jason Harvey (Eventure's new CEO).
The setup behind Separation Degrees was basically identical to the setup behind Eventure Interactive in many ways. Again, Giguiere had given himself millions of shares in this new venture in exchange for selling to the company a mysterious "software platform", consisting of (again) "millions of lines of code".
Unfortunately, for Giguiere and Separation Degrees, the SEC wasn't willing to play ball. In an initial response letter to the original filing the SEC made thirty-nine(!) different comments. Among others the SEC had a problem with the lack of proper disclosure, the lack of clarity with regards to the amount of customers (if any) the company had, the use of promotional language, and a large number of inconsistencies in the filing. Also, the SEC wanted to know "how the software platform sold by Mr. Giguiere [to Separation Degrees] differs from the platform [sold to Eventure Interactive]", as "we note the identical description of the assets purchased and that they are now owned by Eventure Interactive".
After going back and forth several times, and although Separation Degrees made a number of amendments to its filings, the SEC was still far from satisfied. In September 2015 it concluded "[u]ntil a corrective amendment is filed, we will not perform a detailed examination of the registration statement and we will not issue comments because to do so would delay the review of other disclosure documents that do not appear to contain comparable deficiencies".
While the S-1 registration statement was eventually declared effective, it's no surprise the IPO of Separation Degrees – One never materialized.
2016-2017: Eco Science Solutions
ESSI and Giguiere's Separation Degrees
After the IPO of Separation Degrees – One fell through, Giguiere seems to have changed his plans. He no longer tried to IPO his own company, and instead appeared to change his focus to a company that's already listed. In January of 2016 Separation Degrees signed a "technology licensing and marketing support agreement" with an obscure, illiquid publicly traded entity called Eco Science Solutions, trading under the ticker ESSI. A majority stake in this company had (not coincidentally) just been bought by two brothers from Hawaii one month before (for more information on the Taylor brothers, see Anthony Thorpe's article). The agreement between Eco Science and Separation Degrees entailed, among others, for the third time this article, the sale of a mysterious "software platform".
Over 2016 the collaboration between Eco Science and Separation Degrees resulted in (again) two, very basic apps being brought to market, Herbo and Fitrix. Both apps are free, both are extremely basic (I personally tried Fitrix: by far the most impressive thing it does is offer an ability to calculate your Body Mass Index) and both are being downloaded or used by virtually nobody.
During 2016 Separation Degrees has send invoices to Eco Science totaling over two million dollars. This includes 1,8 million dollar in "advertising services". I have no idea what exactly was advertised. It surely weren't the apps, as even Google doesn't seem to know what, for example, the Fitrix app even is.

Source: Google
But maybe Separation Degrees didn't advertise the apps on behalf of Eco Science, but instead advertised its stock. The website themoneystreet.com has been promoting ESSI stock for months now. Coincidentally (or not), that same website also used to promote EVTI stock.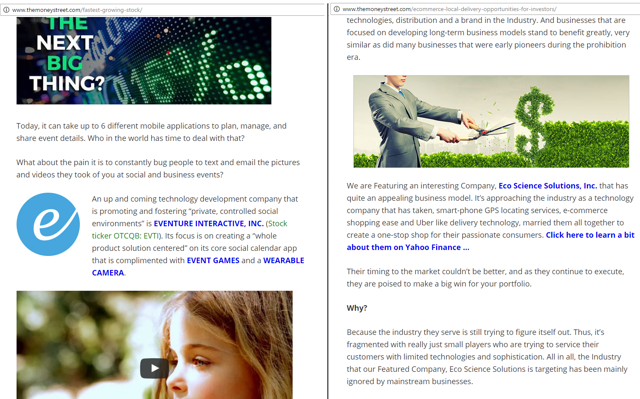 Source: TheMoneyStreet.com / Left: EVTI promo, Right: ESSI promo
I've asked TheMoneyStreet if they have been compensated for running the ESSI promo, as they offer no clear disclosure. They did not reply.
Eco Science and Separation Degrees initially agreed invoices would be paid not in cash (which Eco Science doesn't have), but instead would be paid in shares. Later, both parties agreed to settle all outstanding invoices from 2016 by Eco Science issuing 4 million shares to Giguiere's Separation Degrees. At the current market price these shares are worth about 10 million dollar. Not a bad deal at all considering the original invoices amounted to about 2 million dollar. However, it's important to realize these shares can not legally be re-sold in the open market without a valid S-1 registration statement being approved by the SEC.
ESSI and Giguiere's Phenix Ventures
In January of 2017 Eco Science also signed an Equity Purchase Agreement with an entity called Phenix Ventures LLC. By now, anyone reading this article will not be surprised that Phenix Ventures is ALSO in fact owned by Gannon Giguiere.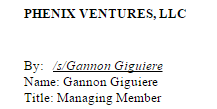 The agreement states Eco Science will sell to Phenix ten million shares of the company's stock, at a price "equal to 83% of the lowest volume weighted price for the ten consecutive trading days immediately following the date on which the applicable Put notice is delivered to Investor".
Such an agreement is a fine example of toxic financing. Phenix gets to buy stock at a discount to the market price, sell those shares for a profit, which makes the share price fall, where Phenix is again able to buy at a discount, etcetera. Actually, it's the exact same type of financing that tanked the Eventure Interactive share price to zero.
And that's not where the similarities end. The Equity Purchase Agreement signed by Eco Science with Phenix is almost an exact copy of the Equity Purchase Agreement signed by Eventure Interactive with toxic financier N600PG two years previous. Can you spot the differences?
Source: Left: screenshot taken from EVTI/N600PG Equity Purchase Agreement. Right: screenshot taken from ESSI/Phenix Equity Purchase Agreement
Both deals through two separate entities have given Gannon Giguiere pole position in taking full advantage of the inflated Eco Science share price in the short term. He's now sitting on four million shares, plus has the right to acquire another ten million shares at a hefty discount, and sell them in the open market for a big profit. All it still takes is those shares being registered for re-sale.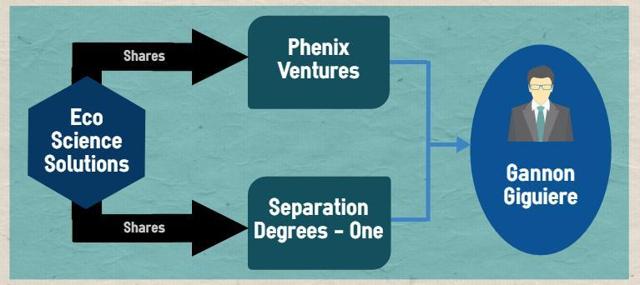 On January 26th Eco Science filed with the SEC an S-1 registration statement. These registration statements are usually declared effective by the SEC within weeks, but on this occasion it took close to four months, and two amendments.
As the ESSI share price began to slide during that unexpectedly long waiting period, the company made ever more desperate attempts to keep traders interested. This included a press release saying the company had signed a "Letter of Intent" to buy a bank, with supposedly "commitments" from prospects" "to deposit sums between 300 and 600 million dollars".
Sounds good? Well, the internet has never heard of this so-called "Ga-Du Bank", and it's regulated by (or, in fact, is; it's all a bit confusing to say the least) the newly founded Central Bank of the "Southern Cherokee Nation and The Red Fire People". Claiming to be a sovereign nation based on a 18th century US Supreme Court ruling (and quite possibly the only government in the world you can contact per e-mail through a gmail-address), it's not on the list of 566 Native American tribes legally recognized by the US.
Apparently, even Eco Science itself wasn't too impressed: while it did send out a PR, it never filed an 8-K with the SEC, which is an obligation to public companies when they have material news to report. I agree with the company the banking business is immaterial (and, besides, of a questionable legality, but I'll leave that to the experts), but is most of all a poor attempt to distract investors from impending doom.
Anyway, I digress. By far the most important news for ESSI shareholders over these last couple of months is the SEC has today declared the registration statement effective, making it possible for Giguiere to start selling stock legally now. Based on the uncanny number of similarities between Eventure Interactive and Eco Science Solutions, I strongly believe history will repeat itself: Eco Science's extended run will soon be over. With dilution in full swing, I believe Giguiere will run yet another share price straight into the ground.
Conclusion
Eco Science Solutions must be one of the most cynical publicly traded "companies" I've ever come across. While many OTC-listed small caps have very little substance, at least most of them fake doing something. Eco Science Solutions doesn't even bother. After having created two extremely basic apps and now apparently a move into tribal "banking", the company to me seems ready to move on to the real purpose of this operation: printing new stock.
With a small float, lots of volatily and several great "buy the dip" opportunities, ESSI stock has been a daytrader's dream in 2016 and 2017. It's fundamentally worthless though, and it doesn't take a genius to see this. But there's no shortage of OTC-stocks which are clear "zero's". And most of them, like ESSI, have excessive borrow rates which make shorting tremendously expensive. The most difficult question is not determining the value, but when the bubble will finally pop. If you're right about the value, but completely wrong about the timing, you'll likely lose anyway.
With the SEC now having declared effective the S-1 statement registering an additional 14 million shares in the hands of a person with, shall we say, a "colorful" history and a strong incentive to sell sooner rather than later, I believe the catalyst that will pop this bubble has finally arrived.
Disclosure: I am/we are short ESSI.
I wrote this article myself, and it expresses my own opinions. I am not receiving compensation for it. I have no business relationship with any company whose stock is mentioned in this article.