Summary
The share price of troubled bio-tech KBIO exploded last week after Martin Shkreli bought a majority stake.
Shkreli was appointed CEO and secured 13 million dollar in financing.
Shkreli bought KBIO because of a drug called Lenzilumab, which is yet to prove its effectiveness.
Due to Shkreli's stock being borrowed, KBIO's free float might not be as tight as generally perceived.
KBIO shares seem expensive and highly risky; yet it isn't a very convincing short either.
Introduction
Last week turned out to be an exceptional week for KaloBios (NASDAQ:KBIO), a previously little known biotech company. A mere eight days ago shares in KaloBios traded as low as $ 0.20 after the company had announced it waswinding down its operations. Last Friday it closed at $ 18.25, after "pharma bad boy" Martin Shkreli and friends disclosed having bought a 70% stake in the company earlier in the week. With Shkreli now having been appointed the new CEO of KaloBios (without salary), and with an additional 13 million dollar in financing underway, KaloBios is suddenly alive and kicking after having been left for dead by Wall Street only a few days ago.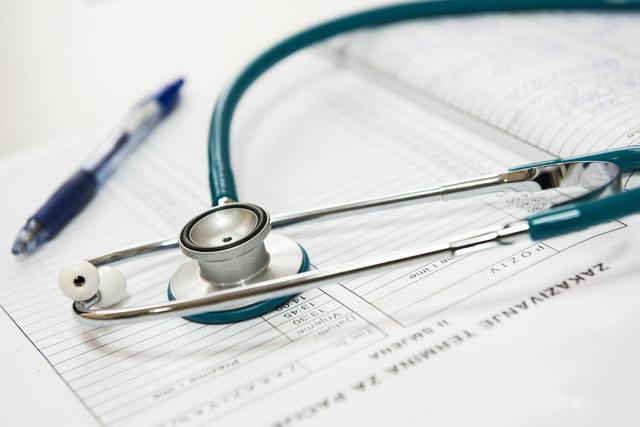 Confessions of a short-seller
Although it's painful to admit, I was one of many investors trapped in a KBIO short position last Wednesday evening when Shkreli disclosed his majority stake in the company and the stock price exploded upwards. I still believe my basic short-analysis was sound: had KaloBios in fact liquidated as planned, I'm convinced based on balance sheet, cash-burn, and costs of winding down shareholders would have gotten (close to) nothing for their KBIO-holdings.
KaloBios had been up for grabs for quite some time now, and nobody appeared to be interested. In September the company was rumoured to be discussing a potential deal with Geron (NASDAQ:GERN), but nothing ever materialized. On the 5th of November KaloBios said it was "evaluating strategic alternatives [..] including potentially the sale of the company or its assets". Again, nobody stepped up even though KaloBios' marketcap at this point had dwindled below a pitiful 10 million dollar. It seemed very unlikely to me anyone was still interested in the KaloBios pipeline.
I turned out be to wrong. Not only was Martin Shkreli interested in KaloBios, he also followed up on his interest in a spectacular way. Shkreli could have made a (partial) tender offer for the KBIO-shares, he could have offered KaloBios financing in exchange for equity or he could have bought the rights to the KaloBios drugs in liquidation proceedings. Instead he did something more in the line of what Wall Street's Gordon Gekko would have done. In cooperation with childhood friend Marek Biestek and 32-year old hedge fund manager David Moradi, and without notifying the company, he simply bought 70% of the company in two days time, blowing up the KBIO share price in the process.
Martin Shkreli's Youtube live stream
Martin Shkreli rose to world fame after his company, privately held Turing Pharmaceuticals, bought a drug called Daraprim, and subsequently raised the price of the drug from $ 13.50 a tablet to $ 750 a tablet. The public outrage was widespread. Among others, Donald Trump said Shkreli "looks like a spoiled brat", and Hillary Clinton said "price gouging like this in the specialty drug market is outrageous".
In the wake of this incident, Shkreli, who is not only being sued by his former employer Retrophin (OTC:RTRX), but who is also under criminal investigationfor his role in that company, hired a crisis PR firm. Perhaps it was this PR firm that told him it might be a good idea to show the public a different side of himself, as Shkreli recently started live streaming his work-days on Youtube. On this stream you see Shkreli come in in the morning, sit behind his computer, do a bit of work, play a bit of online chess, joke around with his co-workers, only too see him leave again in the evening. Watching the stream is mind-numbingly dull, yet, at the same time, strangely fascinating.
Last Thursday, the day after Shkreli's coup in KaloBios made the headlines I watched his stream with particular interest. As Shkreli himself seems to forget he's actually streaming at times, he said a number of interesting things during the day that maybe weren't all supposed to be broadcasted. Most notably he explains what the real reason was for him to invest in KaloBios.
Lenzilumab
Many initially assumed Shkreli's interest in KaloBios wasn't related to anything the company itself had to offer, but that Shkreli was in it for the company's Nasdaq-listed shell. He could potentially use that shell for a reverse merger with his own company, Turing Pharmaceuticals. This way Turing would become a publicly traded company, without having to go through the usual IPO.
In his stream Shkreli was asked that question by a journalist.
Shkreli: I don't need KBIO to IPO Turing. I can IPO Turing whenever I feel like it. There's no reason, uh, no reason to IPO Turing. It's a private company that has cash-flow, right. Why would I need public market's money?
So, a reverse merger is out of the question. What is it then?
Journalist: So, Lenzilumab [..]

Shkreli: We can talk about that one. That's the big one.
Lenzilumab is a drug which was initially developed by KaloBios for treatment of severe asthma. In 2014, however, KaloBios communicated the drug failed to meet its primary endpoint in a Phase 2 study and said it would discontinue clinical development in severe asthma. Despite the failed trial Shkreli still sees potential and says to a journalist:
Shkreli: In fact, this company, their asthma study technically failed, but if you actually look at the primary data

[Inaudible] […]

Shkreli: The clinical effect is very, very meaningful.
More recently Lenzilumab is also being by researched by KaloBios as a possible treatment for CMML, a rare type of leukemia with a median life expectancy of 15-20 months after diagnosis, and for which there is currently no curative treatment available.
Shkreli: Uh, when the drug works, people with CMML will be very happy. If and when it works. It's a good drug though.

Co-worker: Very cool. How exciting.

Shkreli: Yeah, I'm glad we added a nice drug to our portfolio basically. For very little.

[Inaudible]

Shkreli: Yeah, it could be one of those things that goes pretty fast. Like in, you basically put the drug in ten people and see, if, you know, the leukemia stops.

[…]

Shkreli: That's the good part. The investigators are ready. They're ready to infuse the patients. They ran out of money. So, we're like, hey, we could fix that. And so they're going to study, you know, I don't know how many patients, but even after ten patients, if their blasts, monoblasts, monocytes reduce then you know right away.

[…]

Shkreli: I mean, you can get approval on like forty patients. You don't have to do a big Phase 3.
KaloBios previously announced they expected a Phase 1/II Trial for Lenzilumab in CMML to start later this year. Shkreli said in a press release he expects interim results from this study as soon as the first half of 2016.
Valuation
Shkreli himself still thinks KBIO stock is undervalued. He says to a journalist:
Shkreli: No, I think it's very undervalued. You know, my hope is that the stock will go to one-hundred. Uhm, you know, it's a 48 million market cap [based on Thursday's stock price] for a company with a real drug. That's very low. And on top of that, you've got a seasoned entrepreneur. I built two billion dollar bio-tech companies in, what, four years? Five years? So, I don't think anyone has ever done that. So, I'm gonna do the same with KBIO.
So is KBIO really undervalued at this point? At Friday's closing price KaloBios has a market cap of little over 76 million dollar. The last time it had a similar market cap was in June 2014. At that time KaloBios still had about 22 million dollar in cash and securities. It was also working on an antibody fragment called KB001A with pharma-giant Sanofi (NYSE:SNY). Months later Sanofiwalked away from that partnership and in January of 2015 KaloBios stopped development after (yet again) a Phase 2 Study failed.
KaloBios now, even with Shkreli's help, seems to be in a worse shape than it was at that time in 2014. Yet it sports the same market cap as it did then. If Lenzilumab really is the success Shkreli thinks it will be, KaloBios shareholders will be in for a ride. But it's important to realize Shkreli seems to be the only one in the pharma sector who is enthusiastic at this point. All other pharmaceutical companies appear to have previously passed on the opportunity. This makes KaloBios currently a very risky (and at current prices expensive) bet to make.
Free float
Another aspect any investor has to take into account when considering to buy or short KBIO stock is its remaining free float.
The current share structure of the company looks like this: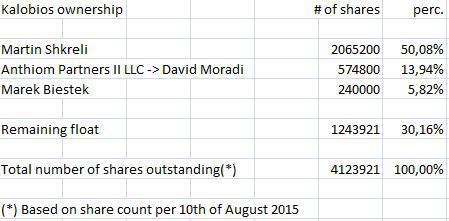 What's left in the float appears to be measly 1.25 million shares, or 30% of the total number of shares outstanding. Considering there's no guarantee all of the remaining shares are currently "in-play" (and not hidden away in the cupboard of a long term shareholder who has been living under a rock for the past week), the number of shares actually tradable must be even smaller. A small float is easier to manipulate, and is especially dangerous to short sellers who could be squeezed out of their position.
However, daily trading volume in KBIO seems to suggest the number of shares available for trading might be a lot bigger than what most think. On the 19th of November 12,5 million shares were traded, on the 20th of November 13,1 million shares. Just think about it: this would mean every single available share would on average have changed hands over 10 times(!) that day. That sounds excessive and it is. Also remarkable: for such a small heavily shorted stock KBIO was still shortable during parts of both days with, for example, Interactive Brokers.
I believe this is because many traders seem to forget Shkreli and friends might have taken out 70% of the free float with their investment, but that their holdings could hypothetically still be loaned out by their brokers to anyone willing to short.
Shkreli, while talking to a co-worker in his Youtube-stream, also touches on this subject:
Shkreli: 10 million shares [with reference to Thursday's intraday trading volume in KBIO]? There's only a million shares to float. (Laughs)

[…]

Shkreli: I think we're all lending our stock, It's not a Failure to Deliver. They can short my stock.[…]

Shkreli: I think Dave [David Moradi] said he's lending.

[…]

Shkreli: Unless you put it in a cash-account, it's lendable. But, what, there's a maximum of eight million shares tradable, right? No, four. Five. One million left still long. One million left is always long, owned by someone. And four million that you could short. Interesting. So, technically, the Street could, uh, has to be long five million shares.
Shkreli and friends lending out their shares would create another, at maximum, three million "artificial" tradable shares, on top of the regular float. This would better explain the large trading volumes of Thursday and Friday. It would also significantly decrease the chance of another short squeeze taking place.
Conclusion
I went into analyzing KaloBios in an attempt to find any sort of edge, either long or short. I couldn't find one. Some of the arguments used by bulls as to why the stock should trade higher in the near time are not that convincing to me. Until Lenzilumab delivers on results, I don't think the share is particularly undervalued, even with Shkreli's investment. I don't expect another short squeeze in the near future, as the float is not as tight as it appears to be. Also, any sort of reverse merger of KaloBios with Turing (which wouldn't necessarily be beneficial to current KBIO-shareholders anyway) seems completely off the table for now.
Yet, Shkreli does seem to genuinely believe in KaloBios' Lenzilumab drug and is willing to put his money where his mouth is. If the drug proves to be succesful in spite of what all the other pharmaceutical companies seem to think, KaloBios is sitting on a valuable asset. I'm skeptical until I see results. At the same time, in today's biotech market there are plenty of more convincing short opportunities out there: companies with drugs that fail trial afer trail, managed by CEO's willing to stake a lot less (if any) of their own money.
It's easy to hate on someone who raises the price of a sought after life-saving drug 5500% after acquiring it. But that same person deserves credit when investing millions of dollars of his own money (instead of using investors' money) to develop a drug everybody else has given up on and which could potentially provide treatment for a terminal disease. Watching KaloBios for the next couple of months should prove interesting. I'll be likely watching from the sidelines though.
Editor's Note: This article covers one or more stocks trading at less than $1 per share and/or with less than a $100 million market cap. Please be aware of the risks associated with these stocks.