Summary
EURI has seen unusual high trading activity as a result of a big (ongoing) stock promotion this month.
This tiny company with minimal revenue now has a market cap of over 130 million dollar.
EURI has strong ties to controversial Romanian-American millionaire Alexandru Bittner.
Millions of shares issued at almost zero are waiting to be dumped in the open market.
EURI has almost unlimited downside.
Introduction
To those of us who regularly receive spam e-mail from stock promoters the name AgriEuro (OTCQB:EURI) probably sounds familiar. An endless stream of email has been pumping this name for about two weeks now. The promotion has not been without success: while many other promotions usually crash and burn within days, EURI is still going strong. AgriEuro currently commands a market cap of over 130 million dollar.
AgriEuro was originally formed to sell popcorn from mobile carts in Poland, but unfortunately that fun idea was soon abandoned. Earlier this year it bought a rather large piece of underdeveloped land of over 1,700 acres (which is over 1,200 football fields) between the Danube Delta and the Black Sea in Eastern Romania. The land is already producing water reed (used for insulation), which is sold under contract to a third party. AgriEuro has big plans to develop the land: it intends to build several fish farms, but also has plans to build an all-inclusive resort on this Unesco World Heritage site.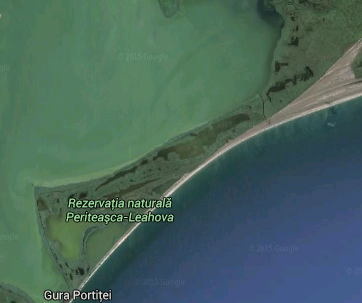 Source: Google Maps
Lots of plans, but the company is basically broke. In its filings AgriEuro shows the true scale of its operations. Over the three months ended September 30th it generated revenues of just over 150,000 dollars, solely due to its reed harvest. AgriEuro has 4,5 million in assets, but 95% is tied up in mostly land, as well as reed harvesting equipment.
Alexandru Bittner
Up until recently the piece of land now owned by AgriEuro belonged to the real estate portfolio of a Romanian-American millionaire called Alexandru Bittner. Bittner is quite famous in Romania, and not only because of his estimated wealth of 40 million dollar earned him a spot in Capital's Top 300 wealthiest people in Romania.
Bittner is most famous for the role he played in a Microsoft licensing corruption scandal. Nine Romanian government ministers have been charged for accepting bribes of over 50 million dollar in exchange for approving increases in license fees in the early 2000s. Bittner was responsible for the governments' IT projects during the period the bribes took place and, as a close friend of the then Romanian Prime Minister Adrian Nastase, played a key role in that scandal. After he had his assets seized by the American IRS in 2013 Bittner eventually reached a settlement with the FBI in exchange for providing testimony. The case is still currently under investigation in Romania.
This wasn't the only business Bittner was (or is) involved in. He owns countless Romanian companies, including huge amounts of real estate. A large part of that real estate is located in the Danube Delta. One article explains in detail how Bittner initially started developing a part of the Danube Delta, including the land now owned by AgriEuro, in a joint-venture with the Romanian government. After large amounts of public money were invested, the assets were secretly sold off to newly formed companies leaving the Romanian state empty-handed.
In 2012 Bittner announced his retirement, and that's where AgriEuro seems to have come in. Bittner sold the land to an anonymous Cypriot offshore entity. This entity then in turn sold the land to a Seychelles based offshore entity in a share exchange in 2015, only to have this entity immediately again sell the land to AgriEuro in yet another share exchange.
Three separate transactions in different parts of the world, but it's not quite clear if there was ever a change in actual ownership. As a result AgriEuro now has a mysterious majority shareholder consisting of two layers of anonymous offshore entities on top of each other. Whether Bittner really retired or is now simply hiding behind these off shore entities (perhaps as a result of his recent run-in with the IRS) is unclear. What is clear though is that Bittner definitely still has an interest in AgriEuro as a debt holder. He has an outstanding (unsecured) loan to AgriEuro of approximately 1,6 million dollar through one of his many other companies. This alone might suggest he is still closely involved.

Source: 10-Q SEC filing AgriEuro Corp. / www.risco.ro
Stock promotions
When AgriEuro was still trying to sell popcorn in Poland its stock never actually traded on the OTC. Trading volume in AgriEuro stock was non-existent up until July 2015, and only traded very sporadically and with low volume after that. That all changed when the promoter Stockbeast mentioned the stock in its news letter for the first time on the 30th of October. Curiously, Stockbeast claims to not have been compensated for this promotion.

Source: EURI stock promotion, Stockbeast.com, 10-30-15
That day EURI trading volume exploded out of nowhere with over 2,75 million shares being traded. Stock promotions, especially with small promoters, very rarely create such an amount of trading activity, which suggest some of this volume might have been artificial. During that same day the share price almost doubled.
In consecutive days other stock promoters, including FinestPennyStocks (which did receive a 200K compensation from a third party) started pumping the stock as well, which boosted trading volumes even further in the next two weeks.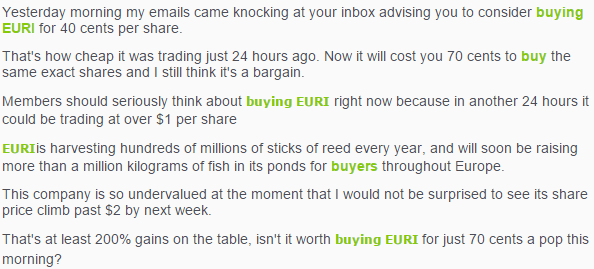 Source: EURI stock promotion, FinestPennyStocks.com, 11-10-15
Penny stock traders might remember FinestPennystocks from a promotion it did earlier this year. They send out over twenty promotion e-mails during July and August on an oil & gas company called America Resources Exploration (OTCPK:AREN). Their e-mails pumped the stock to a high of $ 1.00 per share. That promotion didn't end well though. Last Friday AREN stock closed at $ 0.03.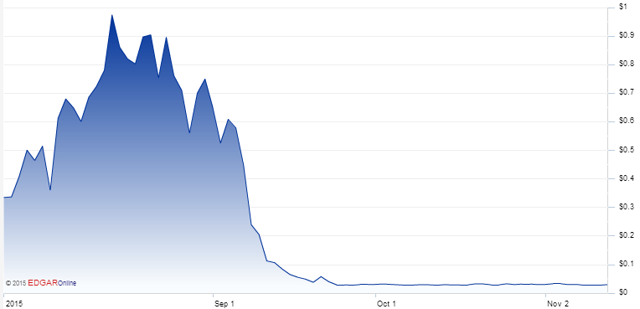 Source: Stock chart AREN, otcmarkets.com. Prices adjusted for forward-split.
Company involvement
On the 10th of November AgriEuro categorically denied it has anything to do with the recent stock promotions in its stock. It also said that "its officers, directors, and its controlling shareholders (..) have not, directly or indirectly, been involved in any way (including consideration paid to any third-party) with the creation of promotional materials".
AgriEuro's actions do suggest some kind of involvement though. Since announcing its change of corporate strategy in July it never issued any press releases until late October. Then, during the period the stock promotions took off, it suddenly issued three separate press releases in three weeks time.
For example, on the 13th of November AgriEuro enthusiastically announced it sold out its entire reed harvest for that year. This sounds like good news, but it was also old news. In its last 10-Q the company had already informed investors it "has sold its remaining inventory" and actually admitted the total harvest had been disappointing because of transportation problems. Seemingly the AgriEuro press releases are not so much aimed at informing investors of recent news, but mostly done to support the current hype around its stock.
Millions of shares ready to be sold
Per the 23rd of October AgriEuro has 256 million shares outstanding. 172 million of those shares are held by the previously mentioned anonymous offshore majority shareholder. These shares are restricted and can not be legally sold on the open market at this time.
That leaves another 84 million shares. These were issued by the company between March 2014 and November 2014. There's no way of knowing who is currently holding them: AgriEuro itself claimed in September of this year those shares were held by five different shareholders, and only 31,7 million of those shares should be considered part of the free trading float. The basis for this claim is unclear. What does stand out is the price these shares were issued at. Adjusting for a forward split in September 2015 the investors originally paid only $ 0.00025 per share for these 84 million shares in 2014. This basically means at the current EURI share price they make a cool 200,000% return on their investment.
As liquidity in AgriEuro stock has always been very bad, there was never any way for these shareholders to actually cash out on any of their investment. The stock promotion has changed all of this: suddenly there's a (temporary) spike in demand for the stock. Shareholders have no doubt created this opportunity with the sole purpose of cashing out their millions of shares and will definitely not wait for the investor enthusiasm to fade away. As the selling will pick up, the EURI share price will completely implode in a few days time, like the AREN share price did as well.
Conclusion
You don't need to be a Wall Street analyst to figure out a company like AgriEuro should not be worth 130 million dollar. You look at the company's balance sheet, its revenue numbers and the number of outstanding shares, and you pretty much know all you need to know. Yet many investors don't even bother. Instead they trust a stock promotion newsletter with an horrendous track-record telling them this is the most undervalued stock ever. If those investors really believe what these newsletters are writing isn't even the point: many are in it for a quick ride. I hope this article changes their mind, as there's a big chance they are left holding the bag when the share price crashes.
Because to be honest, I don't think AgriEuro stock has many quick rides left at this point. Current promotions have been going on for a while now, the stock is off its highs and promotions won't be able to keep the stock inflated forever. You only have to take a look at what happened to AREN earlier this year to get a clear picture of what will most likely happen in the coming weeks.
You have a basically tiny reed harvesting operation worth a few million in land at most. Added to this is the involvement of a controversial Romanian millionaire who in the past has been tied to corruption. And, finally, millions of freely tradable shares issued at almost zero waiting to be dumped in the open market: all the ingredients for the EURI-promo to end in disaster. If I would be long EURI-stock at this point, I wouldn't walk, I'd run.
Disclosure: I am short EURI through an owned entity. I have no business relationship with any of the companies mentioned in this article. This article is not an advice to either buy or sell; it expresses my own personal opinion.