Summary
EBIO's main drug failed two Phase 3 studies in a row.
However, last month its share price rose 300% on speculation the drug might work after all.
Yesterday EBIO squashed these rumors confirming the drug has no way forward.
With no immediate pipeline left and dwindling cash, EBIO should not be trading a premium to cash.
At current prices it has at least 70% downside.
Introduction
These last twelve months haven't been kind to Eleven Biotherapeutics (NASDAQ:EBIO). This Cambridge-based biotech-company had its lead drug, isunakinra, fail two Phase-3 studies in a row. In May 2015 isunakinra, an eye-drop, first failed to achieve its primary endpoints in patients with dry eyes disease. Later, in January 2016, isunakinra also failed to achieve its targets in patients with allergic conjunctivitis. EBIO announced they saw no immediate path forward for isunakinra, and said it would stop development.
Left for dead by investors shares in EBIO plunged from $ 13.00 in May 2015 to $ 0.30 a mere one month ago. However, from those lows EBIO has made a spectacular come-back, without any apparent fundamental reason. It closed at $ 1.03 on Thursday, after having traded over $ 1.50 several times in the last few weeks.
Source: www.otcmarkets.com
Isunakinra
Amazingly, all of this time there was no news that explained the surge in share price. Until last Wednesday. Then a press release hit the wires announcing Interleukin Genetics (OTCQB:ILIU) had performed a post-hoc (after the fact) analysis of the results of EBIO's failed phase 3 trial. This analysis supposedly showed isunakinra did possibly have an effect after all in a specific subgroup of patients with a particular genetic pattern. As investors assumed this meant isunakinra might actually still have a future, EBIO surged over 50% intraday on this news, before giving up most of it gains later in the day.
I had planned to write a long essay in this analysis on how many bio-tech investors (as well as the FDA), are rightfully very skeptical when it comes to post-hoc analyses of Phase 3 trial results. In a post-hoc analysis a hypothesis is suggested after the results are known, which very much increases the risks of generating false positives. There are publicly listed biotechs out there which have made it a sport to consistently have their drug fail trial after trial, only to later tell investors post-hoc analysis showed a particular subgroup of patients did respond after all. They then try again (during which time their salaries are obviously paid with shareholders money for a few more years), only to see that trial fail again.
However, as it turns out, EBIO isn't one of those companies. It only took EBIO one day to set the record straight. On Thursday the company announced its results for the first quarter of 2016. More importantly however, it (again) explicitly repeated its has no plans to pursue further development of isunakinra.
I have asked EBIO about the peculiar timing of both press releases. After all, it doesn't make a whole lot of sense to imply to investors a drug might actually have a future after all, only to tell them one day later it's not going to be developed anyway. EBIO answer was quick and to the point: the press release on Wednesday hadn't been released by them, but by Interleukin Genetics.
EBIO's future
With that news out of the way (and Wednesday's share price explosion properly debunked), EBIO hasn't got that much left to offer investors. While the company does have another drug in its pipeline (EB-031), this one is still in a pre-clinical phase and miles away from any potential commercial success. EBIO plans to file an IND with the FDA in the first half of 2016.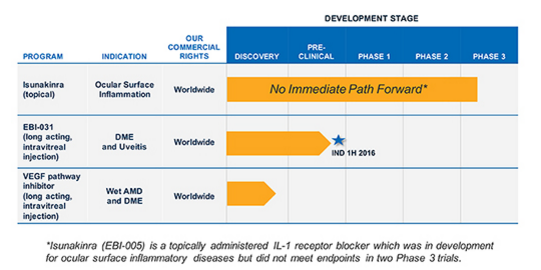 Source: www.elevenbio.com
However, EBIO hasn't got anywhere near the cash to take EB-031 through three clinical trials. Per the 31st of March it still has about 11.5 million ($ 0.60 per share) left in net working capital. It believes this cash will fund the company into the fourth quarter of 2016. EBIO notes if it is unable to obtain adequate financing or find a strategic partner before that time, a substantial doubt is raised about the Company's ability to continue as a going concern.
All in all not a pretty picture. It's easy to understand why EBIO shares traded at a significant discount to its cash position earlier this year. Why it's trades at a 66% premium to its cash position right now is a big mystery though.
This could be attributed to all kinds of factors, including a huge recent daytraders interest in this stock. Or perhaps, but I'm speculating here, it could also be attributed to opportunistic investors making an outside bet on a Martin Shkreli-kind of guy to come along. As most of us know, Shkreli effectivelyexploded the share price of another destitute biotech, Kalobios Pharmaceuticals (OTCPK:KBIOQ) late 2015 when he announced a majority stake out of nowhere. Unfortunately for EBIO investors, it would appear Shkreli currently has more pressing matters to worry about.
Conclusion:
In the end, it doesn't really matter what caused the shareprice of EBIO to explode. In the short term share price volatility will likely be high, but when the dust settles and the daytraders leave the stock for their next project, unfortunately EBIO really doesn't really appear to offer that much to investors anymore.
EBIO desperately needs cash and desperately needs a partner at this point, but so far shows little sign of having any clear shot at either. In the absence of any new developments I believe the company to be currently fairly valued at at most $ 0.30, which suggests at least a 70% downside from where it is currently trading.
Disclosure: I am/we are short EBIO.
I wrote this article myself, and it expresses my own opinions. I am not receiving compensation for it. I have no business relationship with any company whose stock is mentioned in this article.